ABC13 Eyewitness News Houston coverage of ART Gun by Alton DuLaney
Alton DuLaney being interviewed for ABC13 Eyewitness News Houston by Steve Campio for ART Gun. Texas May 2016
Campus police censor UH student's gun-inspired ART
HOUSTON (KTRK) --
Is it art or a weapon? A University of Houston graduate student said his work of art was censored by campus police.
Alton DuLaney told abc13 his piece titled "ART Gun" featured a .22 caliber single action revolver to symbolize power. DuLaney placed a bright flag with the world "ART" in the barrel of the gun.
The artist said he wanted to spark a broader conversation about gun culture. Instead, he was told the art was illegal to make or bring on campus.
"I was trying to take a very neutral stance on it because it's a very divided subject here in Texas in particular, whether pro or anti-gun," said DuLaney.
"My stance was pro-art. I really wanted to present it and let the viewing audience have the conservation. I really wanted to start up a conversation. I think the censoring of it by the police department was very helpful in that."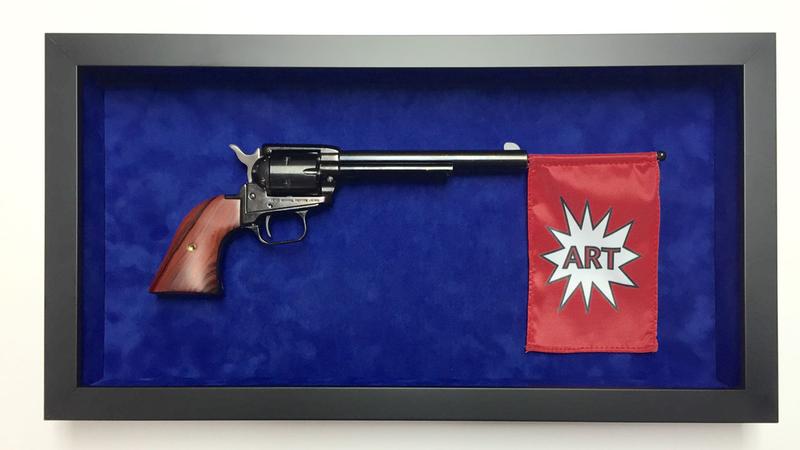 ART Gun by Alton DuLaney. Texas May 2016
DuLaney's piece is hanging inside the Blaffer Museum for the annual student art exhibition without the revolver. There are two explainers placed next to it -- one written by DuLaney and another from general counsel.
"I view the museum as a sacred place. I think art has the power to transform both objects and opinions. I was hoping my alterations of this piece would transform it and it would be seen strictly as an art piece and then we could be having this conversation. The authorities here on campus felt otherwise. They felt it was still a weapon, even though it had been altered, and couldn't be included."
The University of Houston released the following statement to abc13 when asked for comment.
"SB11, adopted in our last legislative session, allows individuals licensed to carry concealed handguns to 'carry a concealed handgun on or about the license holder's person while the license holder is on the campus of an institution of higher education' effective August 1, 2016 subject to rules adopted by the president of the institution.
"Until August 1, 2016, the Texas Penal Code prohibits a person from bringing a firearm onto campus, even in the guise of 'art.' The art as proposed was to include a real firearm and therefore, it was explained that the law did not have an exception for what was proposed. Under these circumstances, the guidance provided to the student and the Blaffer was related to compliance, nothing more."